Welcome to
Ink N Clay !!
Howdy! My name is Nelson Broskey – Thanks for stopping by my freelance art site, INKnCLAY !
I chose this domain to highlight the kind of art I like to do, and plan to do more of when retirement finally arrives.
I will also add links so visitors can explore my work and background. Maybe my style will connect with you in some way?
Currently I'm collaborating with Charlie Chiodo from Chiodo Bros. Productions and Richard Jones of Midwich Entertainment to publish a series of art books featuring Charlie's incredibly fun and unique Clown and Dinosaur drawings.
Our first book, "Invasion of the Clown Clones" (IOTCC), is an 8.5″ x 11″ softcover 50 page book of Charlie's brilliantly clowned caricature art featuring several notable personalities being cloned into Killer Klowns.
We also got funded to publish Charlie's second book, 'Chiodosaurs', which will showcase his lifelong love of dinosaurs including some of his own unique dinosaur creations. That Kickstarter campaign ended ( http://kck.st/2zZAt0X ) but you can still preorder a copy of Chiodosaurs through PayPal below!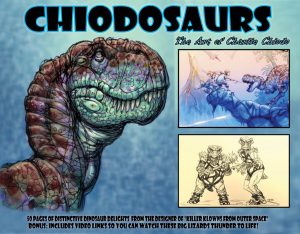 In Stock Now
INVASION OF THE CLOWN CLONES
$25.00 which includes US shipping!